The principals of Cadence have performed contracts for federal agencies around the country, providing Cadence with relevant contracting experience in many locations. This map shows the locations where Cadence and its owners have gained valuable contracting experience: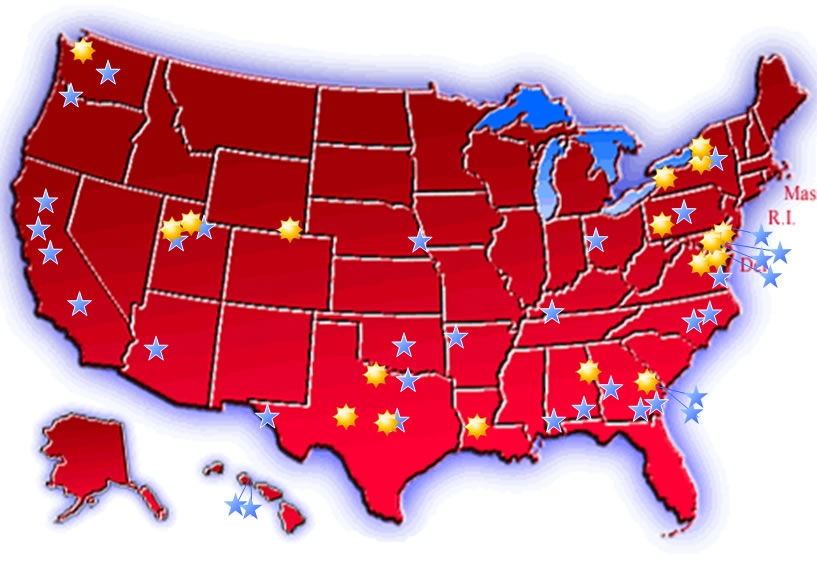 Yellow Sun indicates Locations that are Cadence related Contracts
Goodfellow AFB, Texas
Fort Drum, New York
Wellesley Island, New York
Fort Hood, Texas
Buffalo, New York
Fort Gordon, Georgia
Bolling AFB, DC
Anniston Army Depot, Alabama
Hill AFB, Utah
Aberdeen Proving Ground, Maryland
Philadelphia, Pennsylvania
Ft. Polk, Louisiana
Sheppard AFB, Texas
Dahlgren, Virginia
F.E. Warren AFB, Wyoming
Perry Point, Maryland
Tooele Army Depot, Utah
Blue star indicates locations for contracts which were performed by the owners of Cadence with previous companies.
Air National Guard, Arkansas
Andrews AFB, Maryland
Bolling AFB, DC
Fort Benning, Georgia
Fort Bliss, Texas
Fort Bragg, North Carolina
Fort Campbell, Kentucky
Fort Drum, New York
Fort Gordon, Georgia
Fort Hood, Texas
Fort Lee, New Jersey
Fort Rucker, Alabama
Fort Stewart, Georgia
Hickam AFB, Hawaii
Hill AFB, Utah
Hunter Army Airfield, Georgia
Luke AFB, Arizona
McClellan AFB, California
Mobile, Alabama
Moody AFB, Georgia
Norfolk, Virginia
Offutt AFB, Nebraska
Pearl Harbor, Hawaii
Portland Int'l Airport, Washington
Randolph AFB, Texas
Rock Island, Washington
Rutgers State Univ. New Jersey
Salt Lake City Adult Detention, Utah
Seymour Johnson AFB, North Carolina
Tinker AFB, Oklahoma
Tooele Army Depot, Utah
USPFO central California
USPFO Northern California
USPFO Pennsylvania
USPFO Southern California
Washington, DC
Whidbey Island, Washington
Wright-Patterson AFB, Ohio
---
1204 W. South Jordan Parkway Unit D, South Jordan UT 84095
Phone: 801-302-8220 Fax: 801-302-8320